Conference Room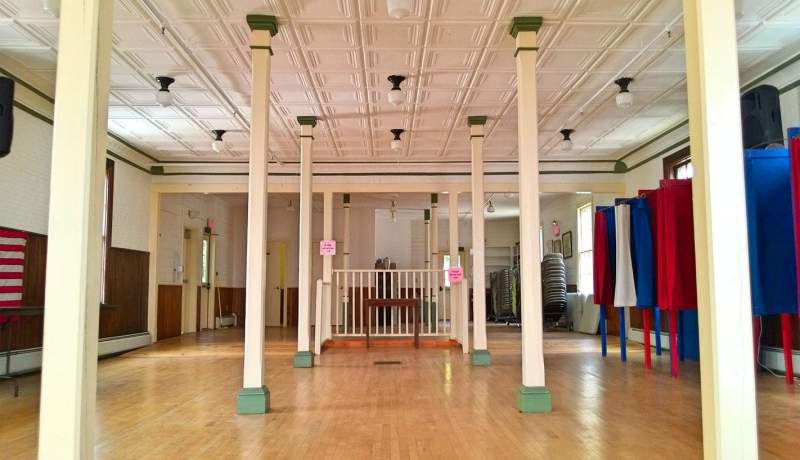 The Stonington Town Hall Conference room is large, open, and airy, providing a perfect forum for your next group event.  Stonington is a perfect destination for a relaxing trip, workshop, meeting, celebration, or retreat.
Located in the center of town, the Town Hall is a handsome, mansard-roofed building, a short walk away from great restaurants and inns, across the street from the ocean, and a short drive away from Acadia National Park.  You can take the ferry to Isle au Haut, buy a lobster from one of the dealers, or watch the sunset on Sand Beach, all within walking distance from the Town Hall.
The room is 2,088 square feet, and is bright, well-lit, and has pleasant historical touches.  Windows lines all four walls, and there are plenty of tables and chairs for everyone in your party.  The space has WiFi, a bathroom, and an accessible entrance.  The windows at the front of the room look out onto picturesque Stonington harbor, providing a view of lobster boats coming in from their day at sea, unloading their catch.  The room is great for workshops, classes, meetings, conferences, and more.
Renting Information
There are a couple of forms you need to fill out before renting our conference room.  To rent this space, complete the Town Hall Building Use Application form and the Tenant User Liability Program (TULIP) form. Before filling either of these out, you should read the Town Hall Building Use Policy. (Forms and policy are provided below.)
Daily rental rates are $25 for an event that will last less than three hours, and $50 for one that will last more than three hours, and a per-event security deposit. Contact the Town Clerks, 207-367-2351 option 1, for more information.
Related Documents:
Town Hall Building Use Application